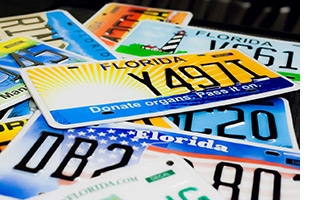 Standard Plate
This new design of the Florida Standard License Plate was unveiled in December of 2003. It now features two Florida oranges with an orange blossom, and an image of the State of Florida in the background.




Personalized Plates
---
Both the standard and specialty plates can be personalized. See form DHSMV 83043 that provides information on the combinations of letters and numerals that are acceptable for each type of plate. The first time a personalized plate is issued, a manufacturing fee of $10.00 is charged, along with the other costs, taxes, and fees. Renewal of a personalized plate may be done with the regular registration after the first year for an additional $15.00. With certain exceptions, personalized plates may be ordered for private or company owned cars, trucks, motor homes, and motorcycles. Applications for personalized plates are submitted to the Tax Collector's Office.
You may determine the availablity of your specific lettering for the personlized plate.


Disabled Veterans (DV) Plates
---
The applicant must have been a Florida resident for the past five years and honorably discharged from the armed forces with a service-connected 100% disability rating from the Veterans Affairs Office. A fee of $4.00 is submitted with proof of residency, disability, and current Florida insurance. DV license plates are renewed yearly at the Tax Collector's Office after submitting proof of Florida insurance and a statement of continued eligibility.


Special Requirement Plates
---
Contact your Tax Collector's Office at 850-892-8121 for detailed information on the following plates. Additional verification of eligibility is required for most of these plates:
Amateur Radio, Antique/Authenticated Plate, County/City owned vehicles (permanent plates), Dealer Plates, EX-POW, Florida National Guard, Horseless Carriage Plate, International Registration Plan, Medal of Honor (for Air Force, Navy, and Army), Moped, Paralyzed Veterans, Pearl Harbor Survivor, Purple Heart, Temporary Employed Tags, Temporary Paper Tags (30 day tags), U.S. Paratroopers, U.S. Reserve, Wheelchair Plate, Wrecker, X-Tags (Boy Scouts, churches, non-profit organizations, etc.)


Specialty License Plates
---
A specialty plate may be purchased instead of the standard plate. The best time to do so is when the current plate comes due for replacement (this occurs every ten years). Specialty plates may also be purchased before the current plate is due, at an extra price.
In addition to the yearly registration renewal fee, an additional annual use fee is charged for each specialty plate. This fee is applied to the fund used to support the cause for which the plate was designed. A $5.00 annual processing fee is also collected. The list below names each Florida specialty plate, click on the links below to view pictures and more in-depth information about each plate, including fee information (please note: annual use fees shown on these pages do not include the $5.00 annual processing fee).


Applying for Replacement License Plate, Validation Decal or Parking Permit
---
Application can be made for a replacement license plate, validation decal or parking permit if lost, damaged or stolen.
Form HSMV 83146 must be completed and returned to the Tax Collector's Office when applying for a replacement.
If you are reporting a plate, decal or permit stolen, you will also be required to provide a photocopy of the law enforcement card with case number and reporting agency. (This is a procedure enacted in summer 2011.)
More information and to view sample specialty plates.
Download the Specialy Tag Display in ADOBE pdf
Download the Florida Tag Booklet in ADOBE pdf
Renew Registration