Vessel
All motorized vessels, commercial and private, must be registered, titled and issued a decal before they can be used in Florida waters. The decal must be affixed to the port side of the boat. All vessels 16 feet and over must be titled.
New Vessel– Never Titled or Registered
The Manufacturer's Statement of Origin (MSO/MCO) must be completed by the selling dealer/store for all new boats. A bill of sale from the dealer must also be provided as proof of sales tax paid or sales tax will be collected at the time of application.
Used Vessel - Obtaining Title
Currently titled in Florida - Florida title accurately completed for transfer to purchaser.
Currently titled out of state – Out-of-state title accurately completed for transfer to purchaser
Currently registered only in another state (from a non-titled state) - Current registration from that state and a bill of sale from the current registrant. Bill of sale must include a complete description of the vessel including the hull number.
There are some exemptions from titling vessels, see the state's website for more information.
Registration
The Florida registration number issued to a vessel is permanent and remains with the vessel as long as it is operated or stored in Florida, even though ownership may change. The Florida registration number is used for identification purposes and must be painted or permanently attached to both sides of the bow (forward half) in block letters and numbers at least three inches high. The number must read from left to right, contrast in color with the vessel and be maintained in readable condition (see image below).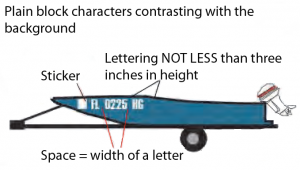 Vessel registration expire at midnight of the owner's birthday, except for registrations in a business name which expire June 30th. Vessel registration fees are determined by the length of the vessel.
Florida Vessel Registration Fee
| | |
| --- | --- |
| Length | Estimated Fees |
| Under 12 ft | $13.50 |
| 12 ft to 15 ft | $21.50 |
| 16 ft to 25 ft | $34.00 |
| 26 ft to 39 ft | $83.50 |
| 40 ft to 64 ft | $133.00 |
| 65 ft to 109 ft | $158.00 |
| 110 ft or more | $195.00 |