Renewing Driver License or Identification Card

Driver license and identification card services are offered in both offices of the Walton County Tax Collector's Office, Monday through Friday, from 8:30 a.m. to 3:30 p.m.

Appointments are available to minimize your wait time. To schedule an appointment, please click here.

Renew online


Required Documents
---
If you have not renewed your driver license or identity card in a driver license office since before 2010, please be aware there are new document requirements to renew your license or identity card.

In 2010, Florida became a Real I.D. state, which requires individuals renewing or obtaining a new license or ID card to prove his/her identity, social security number and residential address with new documentation requirements.

To ensure you are bringing in the documents required for you to successfully complete your transaction, please visit WhatToBring for a checklist. If you are unsure as to whether or not you have already provided your documents, please look at your current driver license or identity card.

If you have a gold star located after your driver license or ID card number, as shown in the image below, then you have already provided the necessary documents and you are not required to provide them again unless your need to update information on your card.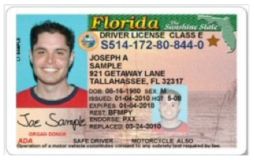 Renew License Online